I - Track


With JOSAM i-track, checking wheel alignment on a vehicle is faster than ever before. Taking efficiency one step further, the target scales for the JOSAM i-track can be mounted on the walls or the floor of the workplace. Dedicate one or more spaces in the workshop to wheel alignment and perform measurement diagnoses on assembly line level.
The only devices left to be mounted on the vehicle are the wheel adapters and the corresponding measuring heads. Even vehicles with limited space to mount the measuring equipment, such as minibuses and light trucks, can be measured with precision and replicable reliability.
Measure a 6×2 vehicle in around four minutes!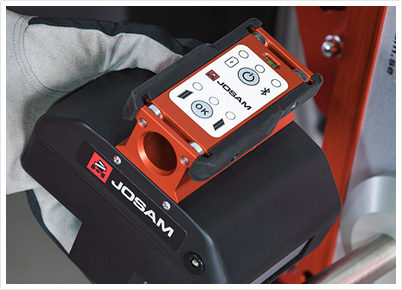 In a workshop without a pit, attaching scales on buses and minibuses is a common challenge; this has been completely eliminated with the JOSAM i-track wheel alignment system. The system can be used simply to make a diagnosis, or in connection with an adjustment.
The surface that is used to perform wheel alignment remains fully available for other tasks while no alignment work is conducted.
With JOSAM i-track, the wheel alignment process is faster and done right first-time, contributing to increased workshop productivity and profitability.
A single operator will take under four minutes to measure a 6×2 vehicle. Adding a second operator can easily cut that time to half. During adjustment, the system will display real-time updated measuring values.
JOSAM i-track measures all vehicles such as: Trucks, buses, articulated buses, trailers, semi-trailers, transporter vehicles, complete carriages (truck+semi-trailer)
Browse the JOSAM i-track photo gallery for downloadable photos in high resolution.
Click here for more JOSAM i-track videos