Manual Pullers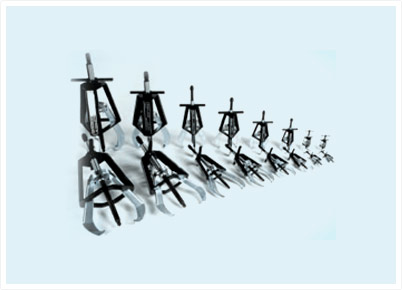 The Posi Lock® line of quality manual gear and bearing pullers sets the standard for quickness, ease and convenience. With Posi Lock, it's strictly a one-man operation. The T-handle and Cage® control the jaws at all times. This means that the opening, closing, locking and aligning of the jaws are all done automatically by simply turning the T-handle.
Posi Lock pullers have been designed for effective removal of stubborn gears, bearings, pulleys, and other press fit items from any machine in diverse industries.
Shown here is the complete line of 2- and 3-jaw Posi Lock pullers, ranging from 1- to 40-ton capacity.
Advantages
Rolled center bolt threads are designed for less effort when applying high torque.
Heat-treated tips.
T-handle locks jaws precisely where you set them.
Slim tapered jaws allow for better gripping and easier access in tight spots.
Safety Cage® guides jaws for fast set-up, solid contact and superior safety.
Nut recessed to avoid mushrooming and disfiguring from impact.
Leverage up front for positive grip, vise-like power and no slippage.
Tip protectors and optional bolt extenders create a live center to fit on the center bolt for additional protection and added reach.
2 Jaw Manual Pullers
Model & Options
Max reach
Spread Range
Capacity
Center Bolt Dia
Weight
in
mm
in
mm
tons
mm
lbs
kg
202
2.24
57
.25 - 3.25
6.4 - 82.6
1
7.9
0.61
0.28
203
3
76.2
.25 - 4.5
6.4 - 114.3
2
9.4
1.12
0.51
204
4
102
.50 - 5
13 - 127
2
12.7
3.30
1.5
206
6
152
.50 - 7
13 - 178
6
15.8
6.65
3.02
200
2.24
57
.25 - 3.25
6.4 to 82.6
1
7.9
0.61
.28
208
8
203
.75 - 12
19 - 305
12
19
11.11
5.04
210
9.67
246
1 - 14
25 - 381
14
19
11.22
5.09
213
12
305
2.5 - 18
64 - 457
25
28.5
37.54
17.03
216
14
356
3 - 25
76 - 635
35
32
55.31
25.09
3 Jaw Manual Pullers
Model & Options
Max reach
Spread Range
Capacity
Center Bolt Dia
Weight
in
mm
in
mm
tons
in
lbs
kg
102
2.24
57
.25 - 3.25
6.4 - 82.6
1
0.313
0.68
0.31
103
3
76.2
.25 - 4.5
6.4 - 114.3
2
0.375
1.23
0.59
104
4
102
.50 - 5
13 - 127
5
0.539
4.1
1.9
106
6
152
.50 - 7
13 - 178
10
0.660
7.9
3.6
108
8
203
.75 - 12
19 - 305
17
0.766
14.10
6.4
110
9.67
246
1 - 14
25 - 381
20
0.766
16.09
7.3
113
12
305
2.5 - 18
64 - 457
30
1.166
43.87
19.9
116
14
356
3 - 25
76 - 635
40
1.231
68.12
30.9