General Equipments


For Josam's wheel alignment systems there are certain parts, equipment and accessories that are unique for only one wheel alignment system. Other products are general equipment which is used in the majority of the wheel alignment systems. This kind of equipment you will find here, under General wheel alignment equipment.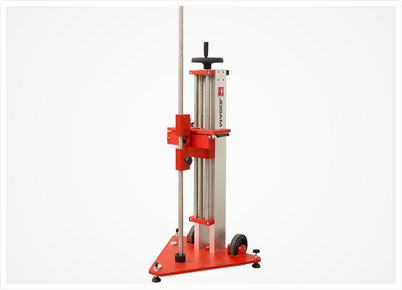 The ACC equipment is used to calibrate the radar/adaptive cruise control system of the truck. The ACC-equipment from JOSAM is used together with the wheel alignment system JOSAM laser AM.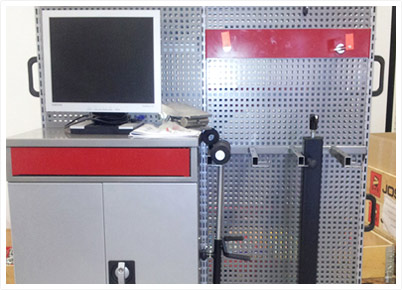 There are two options to store the wheel alignment equipment, trolley and wall. The basic modules for trolley and wall are complemented with add-on kits depending on the wheel alignment system of your choice.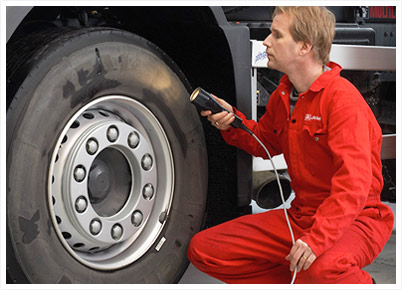 Before measuring the wheel angles, a play detector is used to ensure that all bushings and bearings are free from excess play. This is necessary in order to determine wear and tear on wheel suspension and steering systems.
The ideal feature with the JOSAM play detectors is that they can be mounted easily in the workshop without any concrete casting. Three expander bolts are used on each side and the pump is fastened in the pit wall or the workshop wall.
The checkup itself is carried out by driving the axles, pair by pair, over the plates. When the axle is placed onto the plates the brake is applied. The play is analysed on the opposite side of the plate which has been set in motion, i.e. if you shake the left side the play is checked on the right side. The operator steers the movement of the plates by means of a control handle that has a built-in light as well.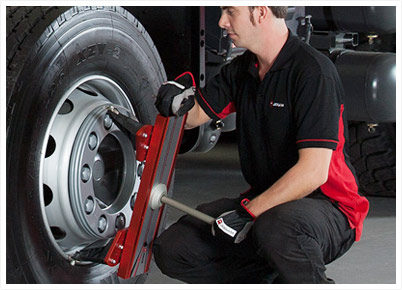 JOSAM provides a vast choice of wheel adapters depending on the purpose, rim size and design of the hubs and rims. Our wheel adapters can be used on rims with a diameter from 13″ to 30″. We also have special gripping hooks for aluminium rear and front rims.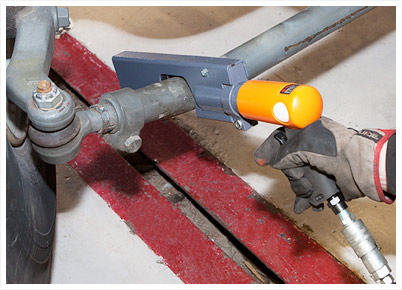 Air driven vibration gun for tie rods When lubrication and rust removal spray is not enough to soften up the tie rod, this air driven hand tool is the solution.