Simalube - Impulse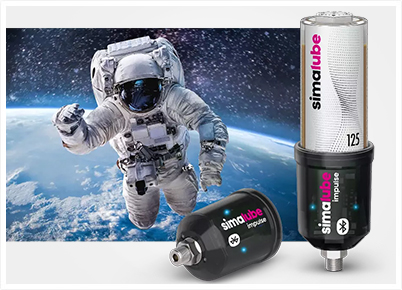 Simalube IMPULSE is the perfect complement to the tried-and-tested simalube lubricator – wherever high pressure is required. Simply affix the simalube IMPULSE to the lubrication point, then screw on and activate the desired simalube lubricator. That is all it takes to overcome counterpressures of up to 145 psi. No further adjustments need to be made to the device. The LED display provides information at all times on the condition and functionality of the simalube IMPULSE.
Function monitoring via LED display
Modular and reusable
Gentle on all lubricants
Easy to use
The new simalube IMPULSE can be used with 60, 125 and 250 ml standard simalube sizes.
| | |
| --- | --- |
| Product | Automatic pressure booster for the simalube lubricator |
| Drive system | Electromechanical |
| Power supply | Battery pack, 6 V2.3 Ah Battery pack for low temperatures, 6 V2.9 Ah |
| Dispensing volume | 0.02 fl. oz. per stroke |
| Working pressure | Up to 145 psi |
| Operating temperature | 14 °F to 131 °F |
| Time setting | 1 to 12 months – determined by the setting on the simalube |
| Lubrication rate | Depends on the size and settings of the simalube:0.01 to 0.28 fl. oz./day |
| Lubricator volume | 60 ml, 125 ml or 250 ml |
| Lubricant | Greases up to NLGI 2 or oils |
| Installation position | Any |
| Connection thread | G ¼"(with integrated non-return valve) |
| Housing dimensions | Ø 2.32 × 3.35 in |
| Housing material | (PET semitransparent) |
| Weight | 846.6 oz. |
| Protection rating | IP68 (dust- and waterproof) |
| Warranty & period of use | 3 years from the production date or until 10 simalube lubricators(125 ml) have been emptied |
| Storage | Recommended at 68 °F (+/–41 °F). Protect against sunlight and store in a dry place(<65% humidity) |